Chairman's Report and Information
CHAIRMAN'S REPORT April 7, 2014
By Lloyd Criss
Women's Trailblazer Brunch
May 3, 2014, 9:30am, Women's Trailblazer Brunch, Wayne Johnson III Community Center, Carbide Park, FM 519, La Marque, TX 77568.  Guest List: Amber Mostyn, Hon. Gladys Burwell, Hon. Patrica Gray, Hon. Penny L. Pope and Marsha Galvan.  Democratic Women of Galveston County  is responsibile.
To attend the Women's Trailblazer Brunch, May 3, 2014,  
You can use the Act Blue link or send a check made out to "Democrats", addressed to Galveston County Democratic Party, P.O. Box 519, La Marque, Texas 77568.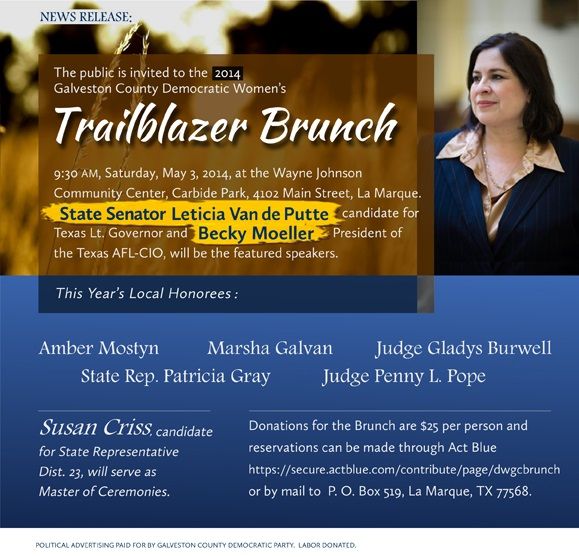 I.  Important Democratic Party Information, Dates and Links:
None at this time.
DEMOCRATIC CLUBS
The local political clubs are all going strong with plenty of activities.  New people who wish to become politically active and make a difference are encouraged to join the local county democratic club of your choice or area.  Your input is welcome.  Information on where, why and how to join is provided in this web site.
Local Campaign Headquarters will open throughout the County in early Fall, 2014.  Watch for information about where to pick up candidate materials.  Please volunteer to work in a headquarters near you.
We have many other exciting events planned in the future in 2013-2014 that will be featured in upcoming reports.  Watch our County calendar!
Last Updated (Sat. Nov. 30  2013.5:00pm)
Last Updated (Friday, 18 April 2014 13:24)
Call to Action
The Galveston County Democratic Party (GCDP), is the most active county Democratic organization in the state. Galveston County has been a Democratic county for more than a hundred years. We have a bright future. We care deeply about individual and civil rights, education, access to the court system, and fair pay for workers. Please join us to make our county and state a better place to live and work for all Americans.